Mobile App Development
Innovative mobile app development solutions to make businesses and workspaces mobile and agile with anywhere, anytime access facility.
To give enterprises maximum mobility in the modern mobile space, we develop many trendsetting consumers and enterprise mobility solution apps that run on Android, iOS, Windows, Blackberry, and cross-platform. We specialize in designing and developing many native and hybrid mobile apps for offering cutting-edge B2B, B2C, & B2B2C solutions at affordable prices. Our customized apps have helped many reputable companies streamline their business processes, increase visibility, mobilize customer services, enhance workforce performances, and increase sales.
We are a recognized Mobile App Development Company
Whether you look for industry-specific or custom mobile apps development services, mobile apps developers working at our office will help you. After a proper understanding of your needs and goals, we will develop superior quality mobile apps that ensure seamless user experiences across all modern mobile platforms and advanced devices and gadgets. We are dedicated to introducing you bespoke app solutions that mean business and make workspaces mobile and agile.
What we do in mobile application development solutions
We plan, develop and deliver different types of native and hybrid mobile apps across all the major platforms like iOS (iPhone & iPad), Android, Windows and BlackBerry Mobile. Our professional mobile app developers are capable of building state-of-the-art mobile apps to run on multiple platforms like iOS, Android and cross-platform apps in Flutter, React Native and Ionic.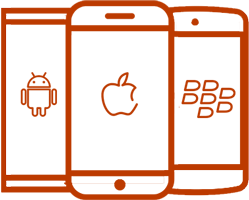 Native Mobile Apps Development
We develop native mobile apps for the specific mobile operating system (OS) like iOS or Android. Users can download these native mobile apps from the dedicated app stores. Before delivering superior digital products, we check and test quality and performance well to ensure superior performance, better UX, greater user experience, and higher security.
Cross-platform App Development
We develop and deliver cross-platform mobile apps to function well on multiple mobile platforms like iOS, Android, Windows, etc. without changing codebase. Our mobile apps developers have expertise in developing cutting-edge, intuitive, feature-rich hybrid apps for Android, iOS and Windows devices.
Hybrid Mobile App Development
The popularity of enterprise mobility and collaboration is increasing gradually. Enterprises are looking for hybrid mobile apps to be easily accessible across multiple platforms and devices.
Using the latest versions and technologies of advanced scripting language frameworks, HTML5 and CSS, we write custom codes in cross-platform web technologies to leverage all the phones' features. Our hybrid apps bridge the gap between iOS and android platform features. We can apply components in your existing native UI (existing app's code) instead of writing it repetitively.