Web Design
Creative web design services that engage users, increase conversion rates and grow your business seamlessly
We are a leading web design company offering a wide variety of website design services for consumers, SMEs and large enterprises. We have won many design competitions on 99 Designs, Design Hills, Design Crowd, etc.
We are a one-stop solution for all web design needs
Let us speak about your business and brands loudly with our customer-centric web design services. Our professional graphic designers, logo creators, UI and UX designers, and web designers create aesthetically appealing banners, logos, social media pages, web pages, landing pages, and all-device-responsive websites to help you create a significant brand identity (both online and offline) and noticeable web footprints. You can reach your target market and targeted customers to sell your products and services offshore and onshore over the internet.
What we do in our services for web design
We offer businesses and individuals common and customized solutions on web design that ensure maximum web visibility, the highest customer reach, better interactivity, and optimal viewing experience on almost all platforms, gadgets and devices.
Responsive Web Design
Getting an all-device responsive website is no longer an option, rather necessary for every website owner. Over 60% of all web traffic comes from a mobile device. Therefore, a website must be mobile-friendly.
Using flexible images, Bootstrap, media queries, fluid and proportion-based grids, and the latest versions of HTML, CSS and JavaScript, we create responsive web pages, splash pages, UX/UI designs that adopt different screen resolutions of modern electric gadgets. We offer an optimal viewing experience with a minimum effort of panning, resizing, and scrolling across a wide variety of devices like PC, Desktop, Mobile, Laptop, Smartphone, Tablet, iPod, Giant Screens, etc.
Users can automatically resize, shrink, enlarge, or hide a website or webpage to make it look good on their available devices.
Landing page designs
Using right call-to-action buttons, attractive icons, sleek images, engaging video banners, bold typographies, soothing colours, robust hero images, visually appealing web graphics, and social media plugins, we create user-friendly landing pages that empower enterprises to capture leads, increase sales, enhance lead quality, improve conversion rates, and drive your revenue upward. Let us turn your traffic into a lead generating machine with our conversion-focused landing page design services.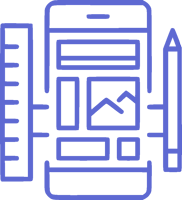 UI/UX Design
Our UI/UX Designers design modern user-friendly interfaces and advanced interaction concepts for apps and software, web portals, CMS, email campaigns, and social media campaigns. These simplify required actions and enhance the interaction between our clients' target customers and their digital presences.
Using cutting-edge technologies, frameworks and languages, we create a series of screens, splash pages, pages, and other attractive visual elements like buttons and icons to empower a user to interact with a product or service.
Apps design
Our apps designers are highly skilled in designing splash pages and UI and UX of industry-specific mobile apps, web apps, and Windows apps. We design different types of web apps, windows apps and mobile apps (native and hybrid) for the main mobile platforms like android, iOS, Windows, etc.
We know well how to blend the craftsmanship of user interface (UI) and user experience (UX) to ensure the overall style of an app and its actual functionality and usability.
Logo Design
A simple, eye-catching, communicable and quickly understandable logo is more than a creative art as it facilitates brand recognition.
Our professional logo designers create aesthetically appealing and easily understandable logos by encapsulating your nature of business, products, services, USPs, core values, missions, and visions. We never compromise with quality to make a significant brand identity for your business, products and/or services. Brand your business online, utilizing the creations and innovations of our logo creators.

Email template design
We specialize in creative, responsive and HTML email template design. Our creative designers design impressive email templates for your business to take your emails to the next level, irrespective of your needs for product launch emails, newsletter emails, marketing emails, or shopping cart recovery emails.
We are capable of delivering stunningly beautiful, hand-coded responsive email templates tailored to your business needs and brand guidelines. Enhance the ROI of your marketing campaign with our high-converting email templates.